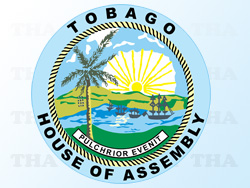 Chief Secretary Orville London said on Thursday (26th June) that the Tobago private sector needs serious attention and support.
He added that the role of the Tobago House of Assembly is to nurture an enabling environment for the development of the private sector.
"Tobago's private sector is definitely in a state that requires serious attention and serious support, and I would say without fear of contradiction that this Assembly is in fact contributing to the private sector at all levels starting with the micro-entrepreneurs with the grants and the loans," he told Assemblymen during debate on the 2015 Tobago budget.
He said the Business Development Unit (BDU) continues to support the initiatives of divisions like health and social services, agriculture, community development and culture, education and sport, to help "little people" become "a little bit bigger". These initiatives include the Enterprise Development Fund, which increased from $250,000 to $500,000 and which will help with the construction of strip malls; the venture capital initiative; the Tobago Development Bank; and support for the tourism sector.
The Chief Secretary said he wanted to make an appeal to the business community in Tobago because "as they say, one hand can't clap. There are a number of things that we have done and continue to do to assist the business community to assist the people of Tobago, but that is not our responsibility. Our primary responsibility is to the people of Tobago."
London said he had concerns, however, and stated that "if we are to create an environment which ensures that there is labour available for the private sector, the private sector must make a commitment that they employ Tobagonians in conditions which are considered to be dignified and fair. Secondly, if we give concessions in the business sector those concessions have to be passed on to the people of Tobago. For example, when we put a system in place to have flatbeds on the ferry, so that goods come to Tobago at a lower cost and more conveniently to the business person, then we expect that saving to be passed on".
He added that there is a link between the quest for internal self-government and the need for Tobagonians to become more self-reliant and to deal with their own self improvement.
"When we came into office in 2001, the situation of post-secondary education was very desperate and we have done something about that. We recognised that Tobagonians had to catch up, and that is why we set up a system to help Tobagonians who wish to acquire tertiary level education but who do not have the financial resources. Because of that initiative, hundreds of Tobagonians who would not previously have been able to consider tertiary level education are now graduates, and some are doctors and lawyers".
Last year, the Assembly awarded 105 bursaries at a cost of $2.4 million and 29 one-off payments totaling $263,000. "We will continue that in fiscal year 2015 when the total number of people
However, he said, he wanted to advise the young people of Tobago that, before they go on to university or college, they need to get the relevant advice and give it some serious thought. He added: "There are too many young people who are getting into programmes where there is already a surplus of graduates and you come out three or four years later, and the situation becomes worse because you are an unemployed graduate".
He said the issue of the University of Tobago is on the table and will remain on the table. The THA's position with respect to tertiary level education located in Tobago "is very different from that of the central government".