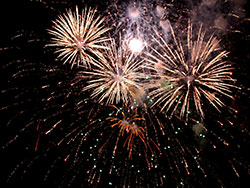 The Republic Day Cultural Extravaganza and Fireworks 2014, themed 'Securing Tomorrow Today,' took place on Wednesday (24 September) at the Cyd Gray Sporting Complex, Roxborough.
T&T's citizens displayed their patriotism as the country celebrated the achievements of the twin-island Republic. Citizens and patrons shared an array of specially prepared indigenous food and drink from local vendors.
They were also entertained by folk songs and traditional dancing. In addition, there were performances by local artistes including the Tobago Heritage Performers, and a special guest performance by Shurwayne Winchester. A grand fireworks display culminated the evening.