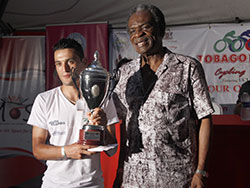 Cyclist pedaled off last Tuesday at the start of the Tobago International Cycling Classic (TICC), which began at the Shirvan/Carnbee/Buccoo Race Circuit. The event hosted approximately 300 international and regional cyclists from over 25 countries. Cyclist participated in the 5-stage cycling event, which ended on Sunday (5 October) with the Tour of Tobago. Oscar Mauricio Pachon Melo of Columbia was crowned the champion of the UCI 1.2 Tour of Tobago Road Race.
Melo finished in three hours, 41 minutes and 57 seconds in a race that led cyclist to Charlotteville, through Speyside, and back to the Scarborough Esplanade. Adderlyn Felix Cruz Colon of the Dominican Republic came in second, while third place went to Melo's countryman and fellow Team Cocos rider Carlos Ospina.
The Tobago House of Assembly is one of the event's main sponsors. TICC entered a new phase of its development in 2011 when it received accreditation by the Geneva-based world governing body for cycling (UCI). This year the sporting event received coverage from the ESPN International Sporting Network, which began broadcasting the TICC and destination Tobago in 2011.