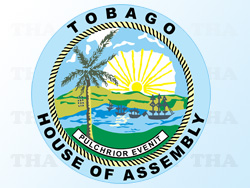 Three Secretaries have maintained their portfolios in a re-alignment of members of the THA Executive Council announced by Chief Secretary Orville London yesterday. (Wednesday 20th July 2011)
They are Tourism and Transportation Secretary Oswald Williams, Community Development and Culture Secretary Tracy Davidson-Celestine and Finance and enterprise Development Secretary Dr Anslem London.
Assemblyman Hilton Sandy has been shifted from Agriculture, Marine Affairs, Marketing and the Environment to Infrastructure and Public Utilities, a position he held in the previous PNM-led THA administration. He remains Deputy Chief Secretary.
Claudia Groome-Duke has been shifted from Education, Youth Affairs and Sport to Health and Social Services, left vacant by the resignation of Assemblyman Albert Pilgrim.
Assemblyman Whitney Alfred, former Settlements and Labour Secretary has been moved to Education, Youth Affairs and Sport. His Assistant Secretary is Councillor Huey Cadette who will have special responsibility for Youth Affairs and Sport. He was formerly Assistant Secretary of Health and Social Services.
Assemblyman Godwin Adams has been shifted from Infrastructure and Public Utilities to Settlements and Labour.
Councillor Gary Melville, Assistant Secretary of Infrastructure and Public Utilities has been promoted to Secretary of Agriculture, Marine Affairs, Marketing and the Environment.
In addition to his duties of Chief Secretary, London will serve as Secretary with responsibility for Planning, Public Administration, Information, State Lands and Energy Matters.
In making the announcement at yesterday's post Executive Council media briefing at the Calder Hall Administrative Complex, London said the changes will become effective from Tuesday August 2 2011 to allow for a smooth transition. He also thanked all Secretaries and Assistant Secretaries for their service and was proud of their commitment to the service of Tobago.