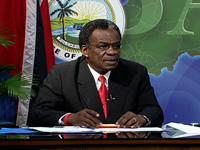 The Tobago House of Assembly (THA) will continue to take action against illegal vending in Scarborough as it pushes ahead with its beautification plans for the town, said Chief Secretary Orville London.
"I want to advise persons who are vending illegally in Scarborough that the process will continue," he stressed.
London said "show cause notices" have been issued and will continue to be issued to persons vending illegally. He added: "I am therefore advising that when you have a show cause notice that you do one of two things you either show cause why the building should not be demolished or if you cannot show cause the advisable thing to do is to use your own resources and your own time to vacate the area occupied.
The Tobago Chief Secretary was commenting on the start of the Assembly's campaign to demolish illegal structures in Scarborough by crews from the Division of Public Utilities and Infrastructure and the Public Health Department on July 8.
He said there were groups of people in Tobago who tend to forget and there was a lot of sympathy and there should be, for persons who vend illegally and buildings have to be demolished, adding: "We don't show any sympathy for those people who are vending legally, we don't show any sympathy for the market vendors whose sales have been affected seriously, we don't spend much time sympathising with the persons in the various malls and the various businesses in and around Scarborough who are selling the same things and maybe paying a high rent and doing it in a legal way, obviously because these things are more accessible they rob them of the sales."
London said he had heard from market vendors that their sales have gone up significantly since the action. He said the Assembly was going to attempt to work with the private sector to facilitate vending opportunities in Scarborough but those vending opportunities were going to be available to all Tobagonians.
"It is not a situation where any particular advantage is going to be given to those who vend illegally; I don't think it will be fair to those law-abiding citizens. Those who are vending illegally, when the opportunities arise will be treated like anybody else and of course will have to apply for the vending opportunities that are going to be made available," London stressed.
London disclosed that as part of the beautification process the Assembly was also targeting unsafe buildings and said there were four buildings that was being looked at initially but that process was a little more complex. He said notices have to be served and then the persons have to be taken before the Court and it was the Court that has to give the authority to demolish. He said fortunately for the Assembly the owners of these buildings seem to be mineable and seem willing to demolish the buildings on their own, but if they do not do so then "we will have to take the necessary action to have the buildings demolish and then charge the owners for the cost of demolishing".