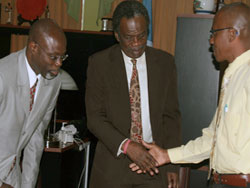 "I have been following your career and I know that you have been a significant contributor to the Church and an exemplar to all of Tobago", THA Chief Secretary Orville London told newly-elected President of the Tobago Mission of Seventh-day Adventist Pastor Toney Mapp at a meeting on Wednesday. (27th July, 2011).
Mapp, who is a former pupil of London, will head the 32 SDA churches in Tobago which has a membership comprising 14 per cent of Tobago's population.
London continued with high praise for the Seventh-day Adventist Church which he said had contributed significantly to Tobago. He said the Tobago House of Assembly had partnered with the institution on initiatives geared towards developing and making a meaningful difference in the lives of Tobagonians.
Paying tribute to out going president Clyde Thomas who recently retired, London described him as talented and a man of integrity, pragmatism, focus and a people person. He said he hoped that the relationship forged between the THA and the Church under Thomas' leadership will continue under Mapp.
Mapp who spoke with the media after the meeting said the Church was grateful for the support of the Tobago House of Assembly and London with whom it had been able to collaborate on a number of initiatives over the past ten years. He added that the Church was not only committed to the spiritual development of members but also meeting the needs of Tobagonians.
The Seventh-day Adventist Church has several institutions on the island including four primary schools, one high school and an extension campus of the University of the Southern Caribbean.
Education Director of the Mission Wilfred Des Vignes, who was also at the meeting, agreed that his institution has had a long and fruitful relationship with the Assembly, especially in the field of Education. Adding that the Church is committed to giving back to Tobago, he said it is obligated to ensuring that its members are good citizens and upstanding moral persons.