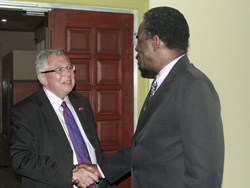 New British High Commissioner to Trinidad and Tobago Arthur Snell paid a courtesy call on THA Chief Secretary Orville London at his Calder Hall office yesterday. (Monday 18th July 2011)
Snell who has served at lower levels in the British Foreign service in the "hot spots" of the Middle East said it was good to be posted in a much "quieter and laid back" place.
He said the British Government was still exploring in what way it might support this country's plans to celebrate the 50th Anniversary of Independence from Britain.
His immediate priorities will be looking after British interests in Trinidad and Tobago as well as those of British citizens who reside here and those who come as tourists.