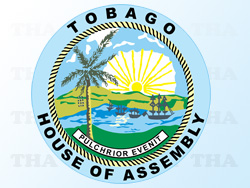 Fishermen of southwest Tobago now have a spanking new, modern facility to store and sell their daily catch.
The South West Fishing Facility, which stands just outside the Pigeon Point Heritage Park entrance, was officially commissioned on Monday. Chief Secretary Orville London and other Tobago House of Assembly (THA) officials were among the large gathering that attended the function, including members of the Tobago Southwest Fisherman Association and other fisherfolk.
The facility features 12,000 square feet of air conditioned space across two separate dome-shaped steel structures, and a unique building for processing lobsters. Building One is for vending, with specially made counter tops, sinks, scales, a walk-in freezer, an ice maker and washrooms. Building Two has 27 lockers for fishermen to store their engines and other equipment.
Secretary of the Division of Agriculture, Marine Affairs, Marketing and the Environment (DAMME), Assemblyman Godwin Adams, said the Assembly is committed to facilities for Tobago's fisherfolk that can be compared to the best in the world. He said similar accommodations are to be commissioned shortly in Castara and Charlotteville.
According to Adams, it is important for the Assembly to ensure the environment is maintained. DAMME, he said, is resolute in maintaining a high standard for the fishing industry in Tobago.
Fisherman Jamo Haye welcomed the facilities.
"We are glad that we could get a cleaner place to sell our fish," Haye said.
Referring to the unique lobster processing building, he added: "We catch a lot of lobsters and we really didn't have a place to store them."