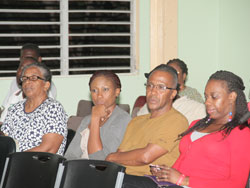 The more than 9,000 monthly and daily paid workers of the Tobago House of Assembly (THA) who have been waiting for their back pay for several months will eventually receive it by the end of July.
Chief Secretary Orville London told an audience at the Bethel Community Centre on Thursday night that on Wednesday the Lower House of Parliament approved $222.8 million for the Assembly to make the payment. This sum will be added to the $83 million the Assembly received last month.
The back pay was as a result of the balance due to the workers for the period 2008 to 2010.
London said there has been a lot of misinformation put out in the public domain about the matter but assured that the money will be paid as soon as the Ministry of Finance released it. He added that members of staff in the various THA divisions have been processing pay sheets which will be audited in preparation for payment of the back pay as soon as the funds were received from the Ministry of Finance.
The meeting was the fourth in the series of the Assembly's Face to Face programme to involve Tobagonians in the governance of the island in the absence of a minority side in the House of Assembly and for the administration to get to know their concerns.
He said his administration was committed to respond to the concerns raised. He added: "This is about bringing government to the people. Everything that is being done is to facilitate but we cannot do it until you are prepared to be facilitated.
In presenting the plans for the Division of Community Development and Culture, Secretary Dr Denise Tsoiafatt Angus warned village councils that they will not receive funds in the next financial year if they did not get their accounts audited for the current period.
"If we are giving you public funds we need audited reports. In the next financial year we would need those reports before we disburse funds," Angus added.
Assistant Secretary of Community Development and Culture Assemblyman Ancil Dennis said seven Y Zones to provide computer training and internet facilities for the youth were being established across the island at a cost of $350,000 each while a mobile unit will service areas without one.
Secretary of Agriculture, Marine Affairs, Marketing and the Environment Assemblyman Godwin Adams said the seven play parks to serve children were operational and another seven will be established in the next financial year.