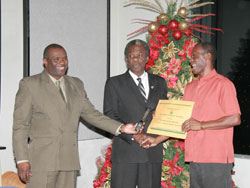 Thousands of Tobagonians continue to wait on The Tobago House of Assembly (THA) for housing.
This year's THA budget will request significant funding from Central Government for housing development to meet the needs of the more than 6000 islanders who have applied for homes.
As part of its housing programme, the THA has spent millions acquiring the necessary lands, including property at the corner of Shrivan and Mt Pleasant Roads.
THA Chief Secretary Orville London said that land was purchased due to the existing situation at the time of a high number of housing applications within the Division of Settlements and Labour.
He said in April 2012, THA representatives discussed a document which indicated the Division "at that time, had on file 4,480 applications for persons in Tobago who wished to have access to Assembly constructed houses."
London said the Assembly did not have the land "to even meet 30 percent of that demand," London was speaking at the weekly Post Executive Council media briefing. "It is in that context, the Division would have made an initial recommendation for the purchase of three properties." The locations included Roxborough, Delaford and MtPleasant.
Discussions were held with the Latour family for the relatively flat landscape, which spans 63 acres, and the land was purchased by the THA for $73.5 million.
London said the THA had obtained permission from Town and Country to build on the land. "We are now looking at receiving requests for proposals with respect to the construction of these houses."
London indicated THA representatives would be discussing the "the whole question of additional funding to be made available to the Tobago House of Assembly" with representatives of the Central Government. He said while he planned to discuss the Tobago housing issue with Prime Minister Kamla Persad-Bissessar , Settlements Secretary Huey Cadette also planned to discuss the issue with the Minister of Housing and the Environment Dr Roodal Moonilal.
He said the THA will be "requesting a significant amount of money for housing. And if we do get the funding, then we have to have the land in order to put down the houses."
The THA budget will be presented on June 24 and the debate on June 27th.