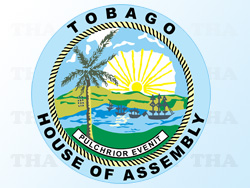 The THA Division of Education, Youth Affairs and Sport has distributed over $.5 million in prize money to 12 primary and secondary school in Tobago for their achievements in academics, sports and culture.
The prize money was distributed on Thursday and yesterday (Monday 28th May 2012) by Chief Secretary Orville London who visited the schools.
Scarborough RC took two prizes totalling $70,000 for coming first in the culture category and second in academics; Black Rock Government received $50,000 first prize in academics; and Moriah and Signal Hill Government received $30,000 for the third place in academics.
Whim AC took the $30,000 first prize in sports; Montgomery Government $25,000 for second and Mason Hall Government $20,000 in third place. Belle Garden AC won the $25,000 second prize for culture and Golden Lane Government $20,000 for coming third.
Among the secondary schools, Bishop's High School received a total of $100,000 in prizes, the $70,000 first prize in academics and the $30,000 second prize in culture; Scarborough Secondary receive a total of $80,000 in prizes, the $50,000 second prize in academics and the first prize of $30,000 in sports; Signal Hill Secondary won the second prize of $25,000 in sports; and Speyside High School the first prize of $30,000 in culture.