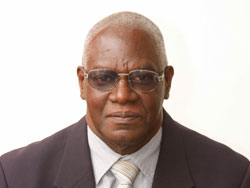 Opposition to the UK Air Passenger (APD) tax is mounting. UK-based tourism agents have now joined the Caribbean in asking for the removal of the tax. Ironically, it appears that the disputed APD tax is more of a disadvantage than an asset to the UK itself.
THA Secretary Oswald Williams told reporters at the post-Executive Council media briefing on Wednesday (28 September, 2011) that operators in the UK have reported a decline in overall travel because of the ADP tax. He said family travel which was a growing market in the UK was also being affected.
Reports have indicated that the UK was losing more than it was collecting from tax receipts.
Within the past four years "while the UK Government received $2.6 billion a year in revenue from this tax, the World Tourism Organisation Council estimated a $3.3 billion in reduction in travel", Williams noted.
For the Region, it continues to pose a significant challenge to tourism. The APD on long haul routes (like the Caribbean) had tripled in the last four years, reported Williams. Faced with the APD, UK persons who do travel opt to visit destinations where they can get the best spend for their money.
Now back from the 2011 State of the Industry Conference in St Martin, Williams reported a growing call for regional Governments to revisit the concept for a common travel air space in order to boost intra-regional travel. "Because we have all these independent States in the region, when the airlines travel, they traverse multiple airspaces belonging to multiple countries and each time you traverse an airspace of a particular country you have to pay the fees associated with that", he added.
It was reported that high air fares, increased taxes on travel, visa requirements in some States and poor travel networks of regional airlines hinder travel within the Caribbean. According to Williams, tourism stakeholders believed that a regional travel space could help reduce transportation costs and boost travel.
Caribbean nations were also urged to aggressively market their destinations through the social networks. The conference highlighted that the social media had changed the way people search, shop and share. Statistics showed that 90 million Americans used the internet to plan travel in 2010 and 72 per cent of US online leisure travelers participated in the social media. It was predicted that US $840 million worth of travel would be booked online in 2011, Williams said.
He said the deliberations of the Conference left a strong call for private and public partnership to tackle marketing issues in the region.