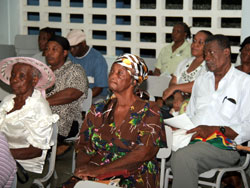 A marine park is to be established in the seaside village of Speyside in east Tobago, said THA Chief Secretary Orville London on Thursday night.
The park will include the breath-taking undersea coral reef off the coast as well as the two offshore islands of Little Tobago and Goat Island which the Assembly bought for $19 million. However, documentation to make this legal is with Parliament. He said a university wanted to establish a research station on one of the islands.
London who was speaking at the Executive Council "Meet the Communities" session at the Speyside High School expressed concern that villagers were not getting involved in the many Assembly initiatives such as the various housing programmes, the financial assistance programmes and business development programmes.
He said while the Assembly was on a $70 million road repair programme, it also intended to begin a similar programme in the area of agricultural access roads. He announced that a team from the Division of Agriculture will be visiting various agricultural areas to determine the priority for repairs to access roads. He said a similar amount of funds will be used to develop these roads.
London said during the era of the Foreign Investment Act not one foreigner had seized the opportunity to invest in a business venture in Tobago. He said a team from the Land Settlement Agency will be visiting Speyside to look after the complaints of land tenure in the village.
Area Representative Tracy Davidson-Celestine who is the Secretary of Community Development and Culture said the Assembly had spent well over $200 million in improving the infrastructure of Speyside.
She said large sums will further be spent on the lighting up of the village recreation ground and the construction of a new community centre, contracts for which have already been awarded.