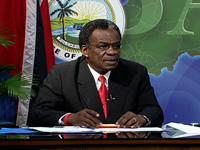 THA Chief Secretary Orville London has made it clear that the fight for the determination of the 200-mile nautical boundary for Tobago within which there were large resources of oil and gas and fisheries was not to secede from the country of Trinidad and Tobago.
"It is to determine what is yours so that you can have the kind of relation that will be based on quality and the kind of partnering rather than a servant master relationship," he told a packed auditorium on Monday night at the Signal Hill Community Centre as the THA Executive Council continues to report to the 12 electoral districts of the Tobago House of Assemble.
Following the Lambeau/Signal stop, London continued his campaign in the Bacolet/Mt St George district on Tuesday night for Tobagonians to petition the Attorney General Anand Ramlogan and the Central Government to include the two Assembly Bills to review the THA Act and the T&T Constitution relating to Tobago as a green paper for public discussion.
Speaking at the John Dial Community Centre, the Chief Secretary said the Assembly was not attempting to tell Ramlogan and Trinidad and Tobago that they have to accept the Bills but this was the THA's position and therefore wanted them to be put on the table for discussion.
London said the struggle for Tobago's relationship between Tobago and Trinidad, and Tobago's place in this country of Trinidad and Tobago started decades ago with APT James and later involved ANR Robinson, Lennox Denoon, Hochoy Charles and now himself. "The question is those who have to carry the baton for the next leg of the race, how far are we going to carry it and how successfully are we going to carry it.
"I am saying to you brothers and sisters that this is your time, you have to make your decision, you have to determine whether you want to be part of this process or not because we have come very far. We cannot allow the naysayers and those people who do not have our interest at heart to determine what we must think about ourselves and our development and what we are as Tobagonians," he said.
London said he was very disappointed that there were Tobagonians who have tried to defend Ramlogan's position instead of the THA's position and asked which organisation, which group of people, which individual, faced with a situation with a number of positions to be put on the table for negotiation that you would put on the table the worst position.
The Chief Secretary highlighted the major differences between the green paper published by the Ramlogan and the THA bills relating to the maritime boundary of Tobago, who is a Tobagonian and the eligibility to vote in a THA election. He said in Tobago elections are won by hundreds of votes while in some areas of Trinidad by thousands, so who is to say why they can't spare a couple of the thousands to come to Tobago to vote and influence the results.
"You have a choice between 10 miles and 200 miles and you are going to tell me that you are going to go for ten miles rather than 200 miles and if you have to negotiate you will negotiate downwards. How can you in a situation where you have a choice between three months and four years to qualify to vote in a THA election you are giving all kinds of reason as a Tobagonian why four years can't work, put the four years on the table and let's discuss it.
London said Tobagonians have to understand what they have and to recognise the threat that was now evident in what they have and whether they were going to allow it to continue. "I am saying to you, the people of Bacolet/Mt St George and the people of Tobago whether we keep what we have will be decided by you and it will be decided in the next six months.
"Where Tobago is and where Tobago will be in the next two decades will depend on you and what to do in the next six months. In order for you to understand and for you to make your choice, I am not telling you what to do, I have confidence in the people of Tobago and I am saying that if you give Tobagonians the facts Tobagonians will make the right choice for Tobago," London said.