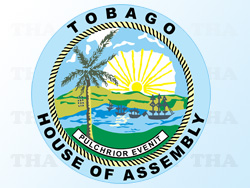 Over 800 nurses, nursing assistants, leave reliefs and other staff of the Tobago Regional Health Authority (TRHA) are to share in a $10.4 million back pay in the coming weeks.
The THA Executive Council on Wednesday agreed to release $10,450,310 to the TRHA to pay the arrears of salary, COLA and other benefits as well as pensions due to the authority's present and former employees for the period January 2008 to December 2010.
The sum of $6,090,593 was already paid for 2011 as a result of the industrial agreement signed by the TRHA and the Public Services Association, bringing the total to $16,540,903.
In making the announcement at Wednesday's Post Executive Council weekly media briefing, THA Chief Secretary Orville London said Secretaries were able to cut and contrive their allocations to get the money to pay the arrears. He added that this was done even though the THA had not yet received the $100 million parliamentary allocation for the operations of the Scarborough General Hospital which was commissioned by Prime Minister Kamla Persad-Bissessar in March.
London said he had raised the matter with Finance Minister Winston Dookeran more than a month ago and he had promised to release the money within the week.
The Chief Secretary considered this as a breach of the Dispute Resolution Commission ruling that Tobago should receive between 4.03 percent and 6.9 per cent of the national budget. He said if the $100 million was not paid the minimum 4.03 per cent would not be achieved and therefore the Central Government would have broken the law. London said this could have serious consequences for the government and intended to write the Finance Minister on the matter.
London said the Finance Ministry was also reneging on its promise made earlier this year during a meeting of four Ministers, the Tobago Division of the T&T Chamber of Commerce, the Tobago Hotel and Tourism Association and the THA to establish a $100 million Tobago Tourism Fund.
He said at a meeting with the Chamber last week the new executive expressed disappointment that the fund was not established and that the commercial banks had not yet come up with a policy and strategy to assist failing businesses in the tourism sector. He added that this had resulted in seven businesses closing down in recent times putting some 120 Tobagonians out of jobs.