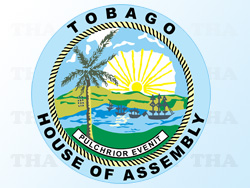 The structural integrity of the NIB Mall which was built in downtown Scarborough over 30 years ago is "quite suspect" and decisions would have to be taken as to the implications of that and what it meant for the Mall, its 40 tenants and the structure.
A five-member team from the National Insurance Board (NIB) held a two-hour meeting with representatives of the THA led by Chief Secretary Orville London on Thursday (14th March 2013) at the Calder Hall Administrative Complex during which the news was revealed.
London said in an interview following the meeting that the Assembly was quite concerned with the impact of this on the tenants, all of Scarborough and the commercial sector in the town.
He said the Assembly was committed to having serious discussions with the NIB officials to ensure that whatever decisions that have to be taken were in the interest of the tenants, the welfare of Tobago and the development of Scarborough and Tobago were paramount.
The Chief Secretary said he was given the assurance that the NIB would take the views of the Assembly quite seriously in their deliberations. He added that the Assembly would insist that the welfare of the people of Tobago was what was paramount in any decision taken by the NIB.
He said there were safety issues and the Assembly would have to respect them but it would have to be part of the decision-making.