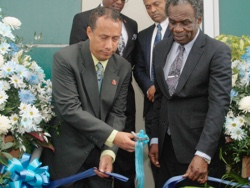 Chief Secretary Orville London has congratulated the police and other security forces for bringing the crime statistics to numbers that are more acceptable than before.
There was a 39 percent decrease in serious crime on the island in the past year. There was also a 69 percent decrease in tourist-related crimes in Tobago.
"I want to take the opportunity to commend the Police Service, the Defence Ford for bringing the numbers down to a level that was less unacceptable than it was before," he said.
London was speaking at the new Closed Circuit Television (CCTV) Surveillance and Command Centre at the Coast Guard Compound in Scarborough on Friday. (14th November)
He said while there are 187 cameras to monitor the island there are 60,000 pairs of eyes in Tobago and "we therefore have a responsibility to mind each other's business with respect to crime and to keep Tobago safe from crime".
London said he would dread the day when criminals feel comfortable in Tobago.
He said the fight against crime would always be present, but at this time the guardians are taking control. "We have got to reach the point where security concerns are not political concerns," he added.
Permanent Secretary in the Ministry of National Security Carl Francis told guests that Tobago had now become a safer place for local and visitors alike with a 39 percent decrease in serious crime and a 69 percent decrease in tourist-related crime. He said the crime detection rate in Tobago had increased from 20 to 25 percent in the past year.
He added that CCTV was introduced to Tobago in 2009 with 69 cameras and this was further increased to 187 in 2012, representing 23 percent of all the cameras in Trinidad and Tobago. He said the CCTV camera centre was originally located at the TEMA headquarters in Bacolet and because of the expanded network it was moved to the Coast Guard compound where infrastructure works cost an estimated $880,000.
He disclosed that the weekly movement by the Police Inter Agency Task Force to and from Trinidad; Tobago for special operations; search and rescue missions; maritime patrols; aerial patrols in crime hotspots; and targets of interests, are some of the measures undertaken to beef up crime fighting in Tobago.
A permanent base to house the Coast Guard, Defence Force and the Regiment Reserves, as well as developing a coast guard base in Charlotteville to strengthen maritime security are also part of the crime plans for Tobago.
He said there would also establish a National Operations Centre in Tobago, which will utilise helicopters with a live video feed, to transmit footage to both the CCTV Centre and the Tobago Emergency Management Agency (TEMA) Operations Centre. This will permit simultaneous monitoring.