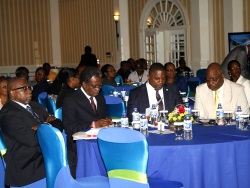 Chief Secretary Orville London remains heartened and humbled by the overwhelming support for Tobago's process as it seeks to achieve self-government. London meets with Prime Minister Kamla Persad-Bissessar today (Thursday) to discuss the issue on the island. The burning issue will be one of the main topics for the meeting to be attended by members of the Executive Council and the Cabinet, at the Magdalena Grand Beach and Golf Resort in Lowlands.
London was speaking at Tuesday's opening of the Eighth Annual Tobago Economic and Business Outlook Conference – Leading Business Transformation hosted by the Division of Finance and Enterprise Development at Magdalena.
The Chief Secretary said he is comforted by the fact that Tobagonians, regardless of political persuasions, have given a mandate to undertake "all proper and necessary steps to achieve and secure democratic self-government for Tobago in the shortest time possible".
"This clearly suggests that Tobagonians are united in the call for self-determination; that this is no longer a narrow political issue but is now one issue that has transcended political lines and has rightfully evolved into an issue which unifies all of Tobago," he added.
The Prime Minister and London met at her office in Port of Spain recently where she gave her commitment to take to Cabinet Tobago's recommendations for advancing the process of internal self-government for Tobago.
The Chief Secretary said it is hoped that a mutually acceptable process could be determined to resolve the longstanding issue.
He added: "I am confident that we will achieve self-government in the not too distant future. We must be prepared to treat with the new challenges that come with increased autonomy. I am sure that all of us are aware that greater autonomy demands that, as Tobagonians, we exercise even greater responsibility, and that is why we cannot be mere spectators in the development of the island.
"Greater autonomy means that we must become self-reliant and strive to take charge and be in charge of our island's development. All our attempts at economic transformation and development could be significantly compromised if, as a people we do not improve our work ethic and become more productive citizens; if we do not play our role in keeping Tobago clean, green, safe and serene; if we do not embrace the myriad opportunities available on the island," London said.
London said people in both the private and public sector need to be more productive and diligent. "This is the only way we, as a society, can sustain or hopefully enhance that standard of living which we now enjoy," he remarked.