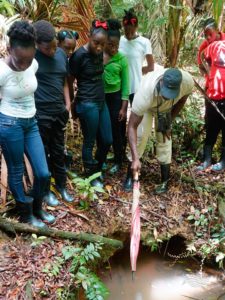 Students from the Moriah Government Primary School were amazed by their recent tour of the Main Ridge Forest Reserve.
The eco-trip was part of the prize for the Standard Five students after they finished fourth in the Division of Tourism, Culture and Transportation's Primary School Community Tourism Awareness Quiz.
Principal Lynette Cox said she was thrilled about the trip. She described the tour as an awakening experience, which let the students witness nature come alive.
The outdoor excursion allowed the children to explore firsthand one of Tobago's historical sites. The Main Ridge Forest Reserve is one of the most popular beauty spots frequented by visitors vacationing on the island.
Students and teachers alike said that the experience gave them a greater sense of appreciation for the beauty of Tobago and its environment