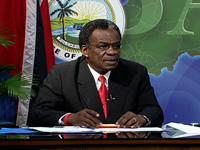 Tobagonians are to receive more water and electricity over the coming months.
The Tobago House of Assembly (THA) is spending almost $2 million on a resumed street lighting and repair programme to be undertaken by state-owned Trinidad and Tobago Electricity Commission (T&TEC) while the Water and Sewerage Authority (WASA) is laying new lines to replace unserviceable ones in parts of west Tobago.
Chief Secretary Orville London has disclosed that the THA had paid T&TEC $995,000 to install 152 street lamps in 32 separate districts in Tobago and had submitted a second list to the commission for a costing and eventual installation of lamps in other districts. He added that the commission will also repair unserviceable lamps and called on Tobagonians who have been experiencing problems with street lighting to make representation to their Assembly representative.
He said the delay in resuming the programme was because T&TEC had faced some challenges in the past.
London also disclosed that WASA has began to lay 573 metres of 150mm PVC lines from Mt Pleasant and All Fields Junction to Buccoo Road; 365 meters of 100mm PVC lines from Guinea Grass to Bethesda; and 200 metres of 100mm PVC lines at Bruce Lane in Patience Hill.
The Chief Secretary added that many of the water lines in those areas were over 30 years old and had become unserviceable and "in no way you can have a predictable water supply. This is encouraging news for the residents of these areas".