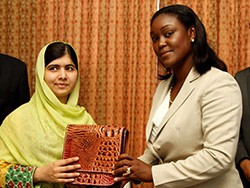 Seventeen-year-old education activist Malala Yousafzai commended Tobago on its free educational system on Monday (July 28, 2014). The Pakistani pupil paid a courtesy call on THA Chief Secretary Orville London at his Calder Hall office.
"Here, you've made it a top priority that every child must get free and quality education, and not just at the primary level," Yousafzai said, adding "This is how I want to see my own country, Pakistan, where education is free for every child."
Yousafzai was invited to Trinidad and Tobago by the University of T&T, which falls under the Ministry of Tertiary Education and Skills Training.
The Chief Secretary praised the young activist for fighting for what she believed in, along with her achievements. "It's awesome what she would have achieved at age seventeen. To have defied the Taliban, inspired a nation, written an autobiography, addressed the United Nations, been twice nominated for a Noble Peace prize, and the list goes on."
Yousafzai said she was inspired by the island's beauty and the warmth shown to her by the people of Tobago.
The young advocate told the media that education impacts society. "Through education, we can bring about a big change. Through education, we can see that there is progress in many countries."
"I think it should be the top priority of every government that they make education free and compulsory, and give good quality education to children," she said.
In October 2012, Yousafzai was shot in the left side of her head by the Taliban because of her advocacy for girls' education. In 2013 she presented an address to United Nations General Assembly where she campaigned for her cause. She was nominated for a Nobel Peace Prize in 2013, and again in 2014.