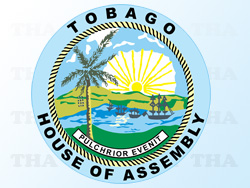 Talks on Tobago's self government shift to Trinidad this week as the island's political parties with the House of Assembly will meet the public on Sunday August 17 at the UWI Teaching and Learning Centre, St Augustine starting at 4 p.m.
Tobago's Forum of Political Parties comprising the Tobago Platform of Truth (TPT) led by former chief secretary Hochoy Charles and the Tobago Council of the People's National Movement (PNM) chaired by Neil Wilson first met on January 7 to plan for moving Tobago to self government. The third political party, the Tobago Organisation of the People (TOP) led by Ashworth Jack only attended that initial meeting. Chief Secretary Orville London is representing the Tobago House of Assembly (THA).
The conference follows on the heels of 12 consultations with Tobago interest groups and the public.
Commenting on the TOP's absence from the process London said: "We know what the situation is that the TOP has dropped out of the process but the process remains very very valid and we want to engage our Trinidad brothers and sisters in this conversation so that we can discuss the issues, we can discuss the concerns and take their recommendations."
He added: "Unlike what is happening now we want to give the assurance that the recommendations made will be treated very seriously when the THA and the people of Tobago put forward their recommendations, which hopefully will be debated in the parliament sooner rather than later."
Alluding to the Prime Minister's announcement of constitutional changes to be debated in parliament on Monday, London said: "Come along to discuss this issue and send a signal to the Prime Minister and her team as to how a democratic process should in fact be handled.
He added: "This action on the part of the Prime Minister has made a mockery of the whole process of consultation when one considers that the Prime Minister and her team would have taken out a few of the recommendations (from the Prakash Ramadar constitution report) without the support necessary to make these recommendations valid," London said.
The Chief Secretary also said: "The most damning aspect of it is when they would have placed into the parliament a recommendation that was not discussed and a recommendation that was not recommended. I think that this sends a very very disturbing signal."
The fourth conference will be held at the Mason Hall Secondary School on Thursday August 21 2014 starting at 6 p.m. This phase of the process will round off with a convention at the Signal Hill Secondary School on Sunday September 14 at 4 p.m.