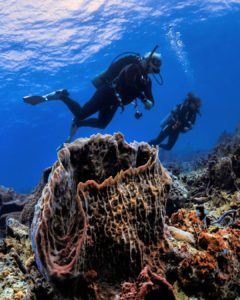 The island's dive niche continues to evolve as the Tobago Tourism Agency Limited (TTAL) works to attract visitors from the UK market.
Last month, TTAL's destination representatives in the UK, Advantage Management Group (AMG Ltd.), attended the Go Diving Show in Coventry, England on behalf of the Agency.
The event featured a presentation from local dive expert Swiss Robinson of Tobago Dive Experience and was attended by organisations such as the Professional Association of Diving Instructors (PADI).
TTAL recently started a marketing campaign, which focuses on print, social and digital platforms in order to raise Tobago's profile among the diving community.
During the event, the delegation met with dive group organisers and dive operators to identify prospects to sell packages to Tobago.