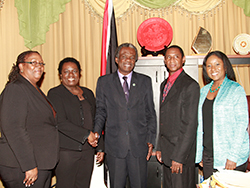 The Industrial Court will sit in Tobago in September to hear disputes between local employers and employees on the island.
This was announced by President of the Industrial Court, Justice Deborah Thomas-Felix, who recently paid a courtesy call on Chief Secretary Orville London along with Noel Inniss, Registrar of the Court. They later met with the Chief Administrator, Rae Sandy.
The Court has been sitting in Tobago since September 2012 during its vacation period. In that year it dealt with 38 disputes, while last year it heard nine disputes. Last week the Court held a case management session for the disputes listed for September.
Thomas-Felix said the Court's administration took a decision in 2011 to hold sittings in Tobago to ensure that everyone in Trinidad and Tobago had access to the Industrial Court.