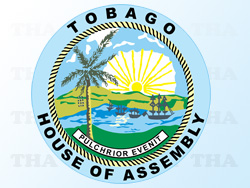 Tobago could well become the first Caribbean territory without a landfill site. The Tobago House of Assembly and Fourth State Energy today signed a contract to undertake a waste-to-energy pre-feasibility study on the island. Fourth State Energy is a Canadian firm that specialises in transforming waste material into clean, green and sustainable energy. The signing took place at the Magdalena Grand Beach Resort this morning, 20 August, 2014.
William Benjamin, Green Fund Coordinator at the Office of the Chief Secretary, commented that the feasibility study will look at how much waste is produced here, the characteristics of the waste and whether the project is viable for Tobago. Stephen Mader, the Chief Executive Officer of Fourth State Energy, added that the study will also show how much electricity can be produced, a plan for remediating the landfill, the anticipated location and cost of establishing a waste-to-energy facility, and the impact this will have on Tobago's economy.
Benjamin stated that the study will dictate the way forward in dealing with sustainable energy, so that Tobago can continue to be 'clean, green, safe and serene'. "If it is accepted by the Executive Council, Tobago will be blazing a trail in waste management in the Caribbean," he said. The project is costing the THA US$100,000, which, Benjamin said, is within the typical range of prices charged around the world.
A tender notice was published and resulted in several bids, with Fourth State Energy emerging as the winner.
New jobs will also be created to run the waste plant. Mader said that there will be 40 to 60 full-time jobs, ranging from sorting waste to engineers running the plant 24/7, year round generating renewable electricity. "If this goes ahead, Tobago will be the first island in the Caribbean to be landfill-free. You don't want the scent of a landfill or to see the fumes because that is an environmental hazard; it is also a health hazard. When you can smell garbage from your hotel room, that's a problem and it's not good for tourism. We want to transform waste into clean, green and sustainable energy."
Mader added that he was excited to be back in Tobago, and that he's rooting for the island to be the first Caribbean island without a landfill. He commented that this study will actually cost Fourth State Energy more money than it is receiving from the THA. "It's an investment to us and the THA," he said.