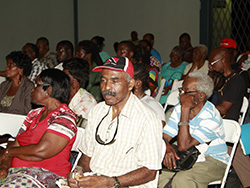 Chief Secretary Orville London says that no significant sector in Tobago desires separation or secession.
"Tobago wants to remain in the sovereign democratic state and it will remain in the sovereign democratic state as long as it is able to assert its rights to self determination in that state", he told the packed auditorium at the Mason Hall Secondary School on Thursday night, 21 August.
"I think that is the general consensus but just because we want to remain in the sovereign democratic state does not mean that we are going to accept any status. I think that that is very important."
The Chief Secretary was closing the fourth conference on the fight towards Tobago's full autonomy hosted by the forum of political parties including the Platform of Truth (TPT) and the People's National Movement (PNM).
He also cautioned that there will be challenges to face, regardless of what was done to achieve this objective and despite the very good response at the conference in Trinidad two weeks ago.
London said: "We are not going to get overwhelming support from Trinidad; we are going to get support from a large sector but there is also going to be a very significant sector of Trinidad to which this is going to be like a bitter pill that they do not intend to swallow."
Addressing Tobagonians directly, he said "I am hoping that we are all in it for the long haul; we all are prepared to do what is necessary for us to achieve our objective."
He said Thursday's conference marked the end of the first phase of a necessary journey that started four months ago, and that its success will depend on the ongoing talks with the people.
He added that members of the forum came to hear the will of Tobagonians, and accepted that their desire was for action.
Responding to questions from two participants, London said: "Self government means that we have to revisit our mindset and take a different approach to many of the things that we take for granted at this time. I think that there is a feeling, especially on the other side of the pond, that we are not ready. So we have to demonstrate that we are ready, even before self government becomes reality and I think, therefore, that there is need for a certain amount of introspection."
The next phase of the process will be a convention at the Signal Hill Secondary School on September 14 at 4 pm when various resolutions will be put forward.