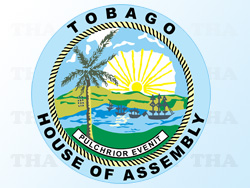 Traffic accidents at the junctions of Auchenskeoch Road and the Claude Noel Highway have been an ongoing problem, so the Tobago House of Assembly is spending $4 million to reduce the number of collisions.
The Division of Infrastructure and Public Utilities (DIPU) is overseeing the construction of a new roundabout, which is slated to start next week and to be finished by October. DIPU Secretary Hilton Sandy said the roundabout was "geared to control the traffic and curtail the accidents at that junction" during Wednesday's Post Executive Briefing, held at the DIPU Conference Room, Shaw Park.
He noted that while the Division was gearing to begin construction, he has heard some criticism of the project. He said that traffic consultant for the Assembly, Dr Ray Furlonge, looked at the traffic flow from the Wilson Road to the Shirvain Road junctions in a study and made a recommendation for the roundabout.
"We looked at the intersection, which is very large. Over the year, it was expanded, presumably to enhance traffic flow," Furlonge said. He indicated decreasing the size of the intersection was not a viable option and the aim was to use the existing space due to the high traffic level. "It's a long exit area which would tempt drivers to speed. Drivers are tempted to not stop and look right and left for traffic."
The roundabout will have double lanes with adequate width for heaver vehicles and an internal shoulder. The entry and exit width, along with relative speed was considered. In addition, factors such as additional sidewalks, which will be 60-70 metres away, and the proper draining were considered to prevent skidding and hydroplaning. "You can use a roundabout and satisfy movement and safety. A roundabout is the only means by managing relative speed efficiently, providing you have enough space," Furlonge explained.
Director of the BBFL Caribbean Limited, William Argular, is doing the detail design of the roundabout. "The design is being done by international standards," noted Argular.
"We tried to maximize space and minimize cost." The scope of the project has also been designed to minimize traffic distractions as traffic flow will be diverted to accommodate construction.