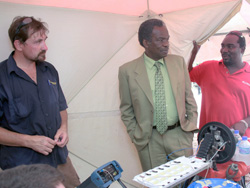 Cable movies, easier Skype, faster downloads and a host of other Internet tasks will soon become easier with a new fiber optic cable in Tobago.
The cable was installed on the seabed from Toco Mission Bay to Swallows, Pigeon Point Beach and will allow the increase in quality broadband connectivity. The cable was double armoured with wire and covered in articulated pipes and took just ten weeks from idea to delivery.
The project was spearheaded by Alliance Telecommunications Ltd. Network Manager for TSTT, Kurt Salandy said, "The locations on the two islands were chosen because it was the shortest distance in terms of wiring." In addition, the facility was in place to support the cable connectivity. The new cable will replace the microwave system now being used.
Owner of Alliance Telecommunications, Maurice Young, said TSTT was present as the cable was being tested "because of their part in the investment into the cable." The cable was financed by Alliance, a telecommunications contracting company, TSTT, and Flow. Young said the installation will allow for competition among the telecommunications companies, noting that Digicel will now be able to bring the 4G network to Tobago.
The new cable was tested by Canada-based IT International Telecom, a subsea network integrator, with service expected to be available on the island next week.
This will enable telecommunication companies such as TSTT, Flow, and Digicel to provide more broadband capacity services to customers, as well as provide them with new products and services.