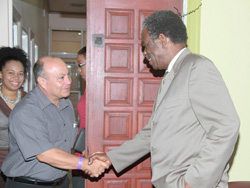 Chief Secretary Orville London has been recognised for his pioneering work in the area of family planning in Trinidad and Tobago. .
On Wednesday, Assistant Representative of the United Nations Population Fund (UNFPA), Ms. Tammy Yates, presented London with a plaque when she thanked him for his contribution. "I'm heartened that you took time off to come and share with us this morning," London told Yates at their meeting at his Calder Hall office. Yates noted that World Population Day passed on July 11, 2012 and that the UNFPA wanted to recognise pioneers in sexual reproductive health, specifically family planning.
Seven persons were chosen from the nation, including the Chief Secretary. "We usually identify a specific theme in sexual and reproductive health and population issues. This year's theme was universal access to reproductive health and we took the opportunity to recognize pioneers in Trinidad and Tobago who've chartered the way." UNFPA works in core areas including sexual and reproductive health; reducing maternal mortality; population development and strategies; and gender equality and women's empowerment.
Yates indicated that data the UNFPA collected from a survey or census were used as evidence in policy planning and in forming intervention programmes.
Statistics gathered by UNFPA showed that men who were tested for HIV were a vulnerable group. One aim of the UNFPA is have policies created to help this group and to implement relevant programmes.
Yates noted that a recently concluded assessment regarding the provision of male sexual health programmes in Trinidad and Tobago showed that, historically, women have been the focus in reproductive health. "We've seen that we need to ensure that men are partners in sexual reproductive health," she said.
"When they're programmes such as a men's health clinic, they are very well responded to by male patients because they do want to come out," Yates said.
She indicated men want to have a "safe space" to access services and noted that the Family Planning Association has done well with men showing up for the men's clinics in high numbers.
Yates was joined by Senior Regional Advisor for Reproductive Health Dr Mario Aguilar and HIV Officer Ms Aurora Noguera-Ramkissoon, also of UNFPA.