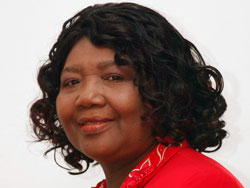 The first patient will be admitted to the new $627 million Scarborough General Hospital at Signal Hill in September, according to Health and Social Services Secretary Assemblyman Claudia Groome-Duke.
She said on Wednesday that the project managers, the National Insurance Property Development Company Limited (NIPDEC) informed a policy oversight meeting on June 4 that "the hospital should achieve full functionality" by the end of August when all furniture, fixtures and equipment should have been installed. As a result patients at the old hospital at Fort King George will be transferred to the new building in September which she has dubbed "Tobago Heritage Health Month".
Speaking at the weekly post Executive Council media briefing at the Calder Hall Administration Complex, the Health Secretary said NIPDEC has handed over some keys and made areas of the new hospital available to the Division of Health and Social Services and the Tobago Regional Health Authority (TRHA). These included areas for radiology, medical records, out patients, ambulance, staff on call, information system, pharmacy, stores, services, mortuary, administration, bio medical, maintenance, learning resource and rehabilitation as well as the public areas of the compound.
She said the Division was now putting in place the commissioning of the clinical services and the formal handing over of the operating theatres, wards and central sterilisation centre should take place by the end of this month. "We feel that August 2012 is still the timeline that we are working with for the completion of work on the building management system as well as any ancillary services," she added.
The opening up of full services at the new hospital will come eight months after the first services were commissioned and more than nine years after the sod was turned at the site.
Groome-Duke also announced that by Friday (June 15 2012) $10.5 million in arrears of salary and benefits will be paid to the employees of the TRHA. She explained that the payment was being done in three batches – June 8, 11 and 15.
In addition, the Division's main offices will be relocated to Lot No 2 Glen Road, Scarborough which was previously occupied by the Division of Finance and Enterprise Development. The latter division moved into the new $103 million Victor E Bruce Financial Complex in Scarborough this week.