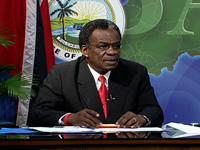 THA Chief Secretary Orville London has said Tobagonians will get "political, social and economic tabanca" if the Green Paper on self government for Tobago that was released for public comment by Attorney General Anand Ramlogan is passed into law.
He told constituents of the Belle Garden/Glamorgan District in east Tobago on Tuesday night that "many of us have to understand that the more valuable a thing is the more likely you are going to lose it".
He added: "Some of you would know that if you have something that is good, something that nice, something that attractive, something that beautiful, what is the next step, other people will want it, that is a fact of life and if we are honest with ourselves many of us would contest to the fact that there were times when you have something that is beautiful, attractive and nice and didn't protect it happen, you lose it and that is what you call tabanca."
London who was speaking at the Glamorgan Community Centre in the "Reporting to the Districts" programme stressed: "I don't want us in Tobago to get tabanca, so we are face in a situation in Tobago now that if we do not manage it well, if we do not protect this beautiful space which God has given us and which we have developed within the last decade we are going to end up giving ourselves political and social and economic tabanca, we would be living in space that no longer belonged to us because other people take it away."
Explaining aspects of the THA Bills on self government that were rejected by the PP central government, the Tobago Chief Secretary said: "As we go through this exercise I want you all to understand one thing, this is not London business, this is not Sandy business, this is not Tracy business, this is all ah we business. This is your business and not only your business; it is your children's business and your grandchildren who are not yet born business and generations of Tobagonians to come."
London stated that he was not exaggerating when he said that "the decisions that we make over the next year are going to impact on the kind of Tobago in which we and our dependents will have for generations".
He said bills were not a PNM thing, they were not a TOP thing and definitely not a PP thing, they were a Tobago people thing.
He said the exercise was about talking Tobago business with Tobago people and "there comes a time in the life of all people, there comes a time when decisions have to be made, it is not about who party you put in power, it is not about who leads. The most important decision you have to make is the space that you occupy and how you are going to manage that space as a people, not as a political group but as a people".