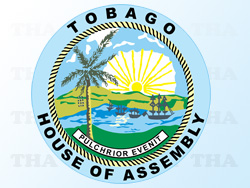 A rainy Sunday evening did not daunt their spirits, nor prevent some of the Carnbee/Mt Pleasant Community from attending the Commissioning of their very own Y Zone Facility.
"Building stronger Communities through Community Involvement and Futuristic Planning," ….the promise and hallmark of the Dept of Community Development, is precisely what the State of the Art Y Zone Facility is all about.
Several members of the Tobago House of Assembly graced the event with their presence. Leading the team was the Hon. Chief Secretary Orville London, himself, Secretary of the Division Dr Denise Tsoiafatt-Angus, Secretary of Settlements and Labour Huey Cadette, Asst Secretary Health and Social Services Sheldon Cunningham and Asst Secretary Infrastructure and Public Utilities Handel Beckles.
Asserting that "this Electoral District is the best in Tobago," much to the applause and amusement of all gathered, Asst Secretary in the Division of Community Development and Culture and Area Representative Ancil Dennis, declared that the Tobago House of Assembly "is in delivery mode."
With direct responsibility for Community Development and having provided hands- on supervision of all Y Zones, the Asst Secretary was proud to remind everyone, of the level of development provided in the District, to include "a Pavilion, lighted Playing Field, Multi-Faceted Buccoo Integrated Facilities, Pan Theatre and now a State of the Art Y Zone Facility, all for which the THA had invested millions of dollars for and on behalf of the people."
Y Zone Facilities he said, is "about youths impacting youths, with the help of older folks, as well as himself and the Division."
Delivering the Feature Address, Secretary of the Division of Community Development and Culture, Dr Denise Tsoiafatt-Angus, began by saying thanks to the Division's Staff and the young people, who collaborated and were actively involved in the proceedings.
Dr Tsoiafatt-Angus was in high praise of the Asst Secretary Dennis, "for delivering the Facility," which she explained although completed for some time, could not be commissioned, "until Mr Dennis was satisfied that the surrounding grounds were in a state of readiness."
She charged persons responsible for the running of the Facility, to do things right to the benefit of all, stressing that "the Division was providing facilities filled with not only equipment, but with opportunity."
To the young people she advised, that they are the future and as such "have a major role to play in the opportunities provided and what takes place in the Facility."
The Ceremony concluded with the Presentation of the Symbolic Key, Cutting of the Ribbon and Unveiling of the Commemorative Plaque, with full participation of Chief Secretary Orville London.