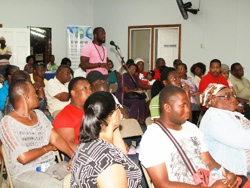 More than 40 percent of international visitors to Tobago in December 2013 contributed in part to an overall 4 percent increase in tourist arrivals for 2013.
Secretary in the Division of Tourism and Transportation, Tracey Celestine-Davidson, reported the figures to a packed auditorium at the Calder Hall Multi Purpose Centre on Thursday night, as the public gathered to hear their area representative, Chief Secretary Orville London, report after being re-elected 14 months ago.
Deputy Chief Secretary and Secretary of Tourism and Transportation Tracy Davidson spoke on tourism development in the island saying that the tourism sector provided an average of 14,000 jobs and was the second largest employer after the Assembly, providing between 33 to 36 per cent of the island's GDP.
She said efforts to increase international visitor arrivals have been successful adding that one of the Divisions greatest achievements was the services of Apollo Airline which had full plane loads from Scandinavia last winter. She added because of the airline's satisfaction it would return in the 2014 winter season.
Davidson-Celestine said while Tobago had a 4 percent increase in visitor arrivals in 2013 this was remarkable in the competitive tourism industry in the Caribbean. She added that compared with the Caribbean market which grew by 2.3 percent; Tobago was doing extremely well in international arrivals. She said Tobago had a 45.3 percent in international arrivals in December 2013 over December 2012 and a 13 percent increase in January 2014.
She also disclosed that Monarch Airlines will add a second flight to its schedule for winter 2014 while a contract would be signed with another airline on Monday.
The Tourism Secretary also spoke of the lack of proper facilities at the ANR Robinson International Airport which posed a challenge for the proper development of the tourism industry, as well as the need for an improvement in customer service provided on the island.
Speaker after speaker gave London, their THA representative, a "thumbs up" for successfully delivering on his promises to develop the Scarborough/Calder Hall District despite budgetary constraints imposed by the Central Government.
The constituents were particularly pleased with the provision of sporting facilities, the development of road and drainage infrastructure, facilities for the youth including Y-Zones, a modern play park, business facilities and the multi-purpose centre.
Following his power point presentation and video of the improvements in Scarborough/Calder Hall London said: "I take pride in what was achieved in the last 12 years and more so in the past year."
He said within a half mile radius of space Calder Hall residents can experience development.