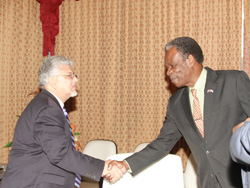 The Central Government wants land from the Tobago House of Assembly (THA) for the construction of three buildings in Tobago. It is also seeking the Assembly's collaboration in its north-eastern growth pole, one of five specific economic spaces for igniting economic and social transformation.
To discuss the requests, Chief Secretary Orville London and a team from the Assembly met on Friday, 14 March 2014, with a team from Central Government, led by Minister of Planning and Sustainable Development Dr Bhoe Tiwarie.
Following the meeting, London said that the Assembly had confirmed its commitment to the judicial complex to be constructed in Roxborough, and that further discussions will take place on an integrated tertiary education complex for the Cipriani College of Labour and Cooperative Studies, COSATT, UTT and UWI in Tobago, and a building for the Ministry of Tobago Development.
London described the talks as "frank and productive" as well as "refreshing", and said that they not only identified several areas of concern but also determined a process whereby these could be addressed before any final decision was made.
"I am heartened that we can sit down with the Central Government to discuss this issue of tertiary education and decide together which institution would be most suited to the needs of Tobago. I am particularly pleased that, after several years, we are finally having such a frank and open exchange on this matter," he said.
London said that it was evident in those discussions concerning the construction of the building for the Ministry of Tobago Development, the type of building and the type of services to be offered in Tobago, the Assembly can finally treat with the concern and problem of the demarcation of the jurisdiction of the THA and the jurisdiction of the Ministry.
Regarding the construction of a building to house the Ministry of Tobago Development, Tiwarie said the Assembly had already received tenders through UDeCOTT. He added that the Assembly will make available all the necessary documents for review by the Ministry of Tobago Development. Following this, a joint team will begin discussing the options to find a mutually acceptable solution.
Tiwarie said that the THA plan could be modified to include the Ministry or to include the two separate tracks at two separate locations for the THA and the Ministry. He said that it was also agreed to appoint a joint committee to consider the existing research into the north-eastern growth pole and to establish a plan for moving forward.
In a further comment, Tiwarie added that the Chief Secretary had agreed to facilitate the grant of land once there was agreement on the tertiary education complex and the building for the Ministry of Tobago Development.