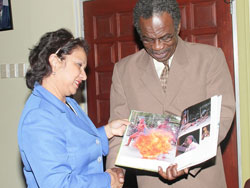 "I couldn't let 2011 finish and I didn't make Tobago one of my personal visits", Dutch Ambassador to Trinidad and Tobago Lucita Moenir Alam told Chief Secretary Orville London during her visit to the Calder Hall Administrative Complex on Friday. (9 December, 2011)
Following the one-hour meeting with London, Moenir Alam declared that she was impressed by his vision and plans for Tobago. "I am not the typical Ambassador. I am from the Dutch Caribbean originally and I understand how it is to have the Constitutional intricacies that Tobago and Trinidad share. I also know the special chances and challenges that islands like Tobago have to confront," she added.
Moenir Alam further disclosed that coming out of the discussions were the avenues for cultural exchanges between Tobago and Dutch territories, especially with the expected opening of the state-of-the-art Shaw Park Cultural Complex in 2012. She said London was particularly interested in Curacao being on the United Nations Educational, Scientific and Cultural Organisation's (UNESCO) World Heritage site list. The Capital of the island state of Curacao was declared a world heritage site after all of its old monuments were restored.
It was only in May that THA Tourism Secretary Oswald Williams disclosed plans by his Division to have Tobago's Main Ridge Rain Forest included on the site. He felt that this could help boost tourism on the island.
This was Moenir Alam first visit to Tobago since her appointment as Ambassador of the Kingdom of the Netherlands to Trinidad and Tobago and the Eastern Caribbean, last year. However, she had been on the island several times as a member of past Dutch foreign affairs missions.