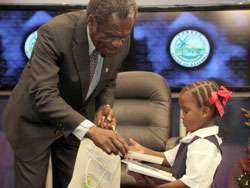 First and second year pupils at the Black Rock Government Primary School visited Tobago House of Assembly Chief Secretary Orville London on Thursday.
The pupils who were the youngest group to visit London had learned about the country's national symbols and leaders in their social studies programme from their three teachers, Ananesia Crukshank, Shirley Baird and Marjorie Moore-Carrington.
The pupils were excited to meet the Chief Secretary and learned more about him when he gave them an opportunity to ask questions. The inquisitive pupils asked him many questions including where he lived and what he did on weekends, to which he replied that he went to church and worked.
London asked the students what they liked about their teachers. Kelshaw Clarke told him that his teacher carried them to the library.
Baird told London she was sure the children would remember meeting the Chief Secretary for the rest of their lives. "I want to make the visit an annual event for the school," she said.
London commended Baird and Moore-Carrington, both his former students, on their service.
The pupils sang "Building up the Temple" for London and received a gift bag with school supplies before leaving.