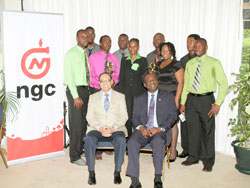 State-owned National Gas Company (NGC) is committed to providing between 80 and 90 percent of the jobs at its $1.3 billion gas processing plant at the Cove Eco-Industrial and Business Park at Lowlands, Tobago.
Already the company in collaboration with the Tobago House of Assembly (THA) and the University of Trinidad and Tobago (UTT) has trained nine young Tobagonians for positions of plant operator and plans to do further training of young Tobagonians for plant maintenance positions.
Following a meeting on Tuesday with top officials of the THA headed by Chief Secretary Orville London, NGC Chairman Larry Howai said one of the key areas discussed was the operationalising of the Cove plant. "We expect to have operational completion by about April of next year and to certainly have it fully operational no later than the end of May. I think that is a big project here for Tobago and we expect that all things being equal that project should be up and running fully by the end of May next year,"
Howai said there has been a lot of talk about the Eastern Caribbean Gas Pipeline Project and the connections that need to be made to that. He added: "That is a project that has been outstanding for a while; again we expect to make a firm decision about the project going forward, certainly by the end of February next year, so we gave that commitment also to the Chief Secretary."
The NGC Chairman who headed a high-powered energy team at the discussions said the company has been looking at other projects for Tobago, and there was one that can be easily materialised out of the transport of the gas to Tobago and the processing that has to take place.
He said the company has started dialogue with the THA on eco friendly projects, probably wind or solar for Cove and certainly downstream of the energy sector, not necessarily for Cove but in other parts of Tobago. He added that these will be located in places approved by the THA where it made most economic and commercial sense. He said this would allow NGC to identify small scale down stream natural gas projects, extremely beneficial to Tobago and which will contribute export earnings for the island and certainly considerable employment generation for Tobago and income generation for both Trinidad and Tobago.
Howai said NGC President Andrew McIntosh was committed to working with THA's E-IDCOT in regular fortnightly meetings so that it can be kept up to date on what was happening and how these projects were progressing here in Tobago.
Chief Secretary London described the meeting as a resounding success and said it was another phase in the development of a mutually beneficial and productive relationship which has lasted for quite some time. He said THA has derived significant benefits from that relationship especially with respect to the development of some of its facilities including the recreational facilities at Shaw Park, some of playing fields and the $4 million YMCA pool in which the THA has also contributed significantly. The company has also been involved in the Heritage Festival as the annual fishing tournament and training in boat engine repairs for fishermen.
London said the company also wanted to give the people of Mason Hall the assurance that the designs for the Dem Boys Pan Theatre were about ready and once approval was given work should start sometime early in 2012.