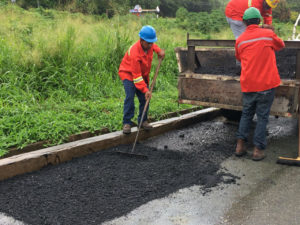 Contractors, industry specialists and technical staff at the Division of Infrastructure, Quarries and the Environment (DIQE) recently observed the application of cold mix from Trinidad Lake Asphalt (TLA) at Sandy Road, Lambeau.
TLA Cold Mix Asphalt is pre-mixed, high performance, cold asphalt specially formulated to enhance the workability of the mix during handling and improve richness of the binder. It can last 5 to 10 years once installed, ensuring optimal stone interlocking and increasing structural integrity.
The exercise was conducted as DIQE remains committed to delivering value for money on all projects.  It is anticipated that the product could save the Division at least $3,000 on each ton and the need to source foreign currency for imports.