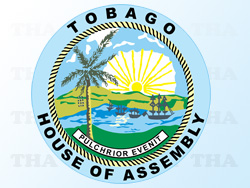 Chief Secretary Orville London is calling on Tobagonians to standby to join the battle for internal self governance for Tobago.
He told residents of Buccoo, Mt Pleasant and environs on Thursday (July 11) that all the signals from the Central Government were that despite all of the talk about self governance prior to the January 21 Assembly elections it was not prepared to keep the issue on the front burner.
He added: "We are urging the people of Buccoo and Mt Pleasant and all of Tobago that we need their support so when the impact comes we will be calling on you to join the battle in the next few months.
"As night follows day you will have to make a choice; you will have to determine whether you are a mice or sheep or man; that is your choice," London said.
The Chief Secretary was the main speaker at the fifth session of the Assembly's in its programme to strengthen the democratisation process in the absence of a minority side in the House of Assembly following the elections. He said if the process was not properly managed the whole of Tobago could become the opposition.
He said the village of Lowlands which was part of the electoral district will shortly have a first class community centre that was not only the best in the island but in the Caribbean region being built at a cost of $9 million and urged the residents to make full use of the facilities to be provided.
The meeting which was held at the Mt Pleasant Community Centre gave the residents the opportunity to raise their concerns about the bus service, drainage, road conditions, sporting facilities, water supply, street lighting and road signage.
Secretary of Infrastructure and Public Utilities Hilton Sandy informed the meeting that the PTSC will shortly be sending new buses to Tobago to replace the current fleet which was unsuitable for the road conditions in Tobago.
Secretary of Settlements and Labour Huey Cadette disclosed that his Division had provided housing grants for repairs and improvement to 820 households at a cost of $6.5 million.
Representatives for the area Ancil Dennis disclosed that the nearby Mt Pleasant Recreation Ground will be turned into a first class cricketing facility in the next fiscal year.