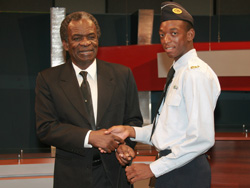 Chief Secretary Orville London has stated that it was very challenging to govern a "paradise island" like Tobago.
"Crime is one of the major challenges; however, the biggest challenge is the preparation of Tobago since we live in a very challenging and competitive world," he told 18 recruits of the Military-led Academic Training (MILAT) programme of the Ministry of National Security during a meeting last Thursday.
London who was responding to questions from the recruits said whether it was a paradise island or not there would be these challenges. "My job is no different from any other leader. We need to deal with the people's perception of what Tobago is. We too have to deal with our perception of what Tobago should be," he added.
In response to questions on the high cost of living compared to Trinidad, London said this was mainly due to transportation. However, he said, while some items in the grocery were higher a lot of them were equal or even lower than in Trinidad. He said hardware items were higher because of their bulky nature.
London said it was ironical that Tobago now had to import agricultural produce from Trinidad since in the past it was the food basket of that island. However, he added, the Assembly was working on bringing down the cost of the food items and had implemented a new thrust in agriculture. He said it intended to move into agro-processing with the establishment of facilities at the Cove Eco Business and Industrial Park and encourage fishermen to invest in large boats to ply their trade.
The recruits are participating in a three-week camp at the former Mt St George Youth Camp at Blenheim. Their training camp for their three-year stay in the programme is at the former Teacher's Training College at Mausica.