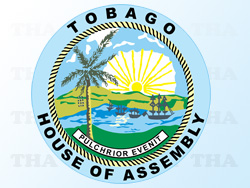 Finance Minister Larry Howai will carry out an investigation today (Monday 15th July 2014) to determine why the Tobago House of Assembly (THA) had not yet received the $220 million approved by Parliament a month ago to pay Tobago's 9,000 daily-paid workers, teachers and other monthly paid staff their back pay for the period 2008 to 2010.
He told a media briefing at the Magdalena Grand Resort in Lowlands, Tobago yesterday (Sunday) that he had signed the relevant warrant "some time ago" for the money to be released to the Assembly via the Ministry of Tobago Development and was surprised to learn at his meeting with Chief Secretary Orville London and other THA officials that the Assembly had not yet received it.
Reminded that the second quarter tranche of $625 million was held up at that Ministry in January and was only released on Election Day January 21, Howai said he didn't know if the funds were at the Ministry of Tobago Development or bureaucracy in the system was holding it up somewhere.
Both teachers and daily paid workers have been holding weekly protests in Scarborough over the delay in the payment of their back pay.
Howai, along with Tourism Minister Stephen Cadiz were in Tobago for a meeting with the THA and tourism stakeholders.
He disclosed that 15 applications have been partially approved or approved for hoteliers to access $40 million in the $250 million Tourism Development Fund for hotel improvement in the island.
He said the ANR Robinson International Airport needed significant revamping and an allocation in the 2014 national budget will be made to meet some basic requirements.
The Finance Minister said Tobago was playing its part in the growth of the country's economy and all indications were that T&T will experience growth for four consecutive quarter when the figures were released for June.
Howai said he will be meeting with London and other Assembly officials by the end of this month to discuss Tobago's allocation for the 2014 fiscal year.
London said it was important for the Assembly to receive approval for off budget opportunities especially to finance Tobago's housing needs.
He said the meeting agreed on the setting up of a committee to consider Tobago as a duty free zone and the Cove Eco Business and Industrial Park as a special development area. He said the licensing regime to purchase land in Tobago was retarding investment and as a result a second committee will be set up to consider the matter and to ensure that land prices were within reach of the ordinary citizen of T&T.
Cadiz said Tobago needed 1,500 quality rooms in the shortest possible time to meet demands for high end visitors. He said T&T will be sold as one brand which will be launched at the World Travel Market in London in November.