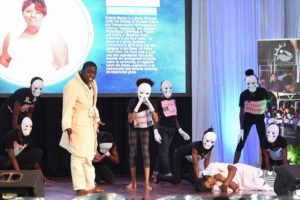 Patrons who attended Signal Hill Secondary School for the Tobago Performing Arts Training Programme Showcase on October 13th were treated to a vast range of cultural talent, hosted by the Division of Tourism, Culture and Transportation.
The event was the culmination of months of professional training provided by tutors attached to the Division in the areas of music, dance, drama, theatre, visual arts and craft.
Over thirty community groups, schools, steel orchestras, police youth clubs, church organisations and cultural groups benefitted from the programme since its relaunch in April 2018.
Tourism Secretary Nadine Stewart-Phillips said, "The performing arts play an integral role in developing our citizens and this programme is indeed fundamental to advancing our local and national economy globally, as creative industries continue to be among the major drivers of global competitiveness and development."
The Signal Hill Police Youth Club, Rhythmic Vibrations Dance Group and the Charlotteville Heritage Performers were among the performers.