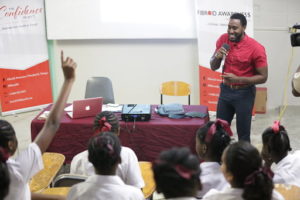 The Confidence Project School Tour targets girls across secondary schools in Tobago and sensitizes them to reproductive health awareness. The tour stopped at Bishops High School on October 14th.
But there is also interest in having boys included in the conversation so they have a better understanding of female health. "Males are pursuers of females. Girls might be faced with issues that boys might not understand and it could be very traumatizing to them," Dr. Kevon Forde said at the event.
He said insensitivity should be a thing of the past as properly educating persons at an earlier age will help. The Confidence Project was started by Korice Nancis of Fibroid Awareness Trinidad & Tobago.