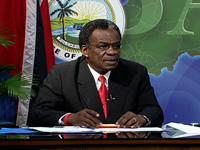 THA Chief Secretary Orville London has said as far as he was concerned it was the responsibility of the Tobago House of Assembly to determine whether there should be a second Carnival in Tobago in 2012.
He told Wednesday's post Executive Council media briefing that the THA was very conscious of ensuring that Tobago's branding was correct, adding that "the same concerns we had about Carnival in 2011, those same concerns will exist in 2012.
London said the only difference was the country will be celebrating its 50th anniversary of Independence and therefore there were issues about that which will be taken into consideration. However, the Tobago Chief Secretary stressed: "I will not under any circumstances say or do anything that signals that I believe that the Minister has the responsibility or the right to determine whether there should be a Carnival in Tobago or not. As far as I am concerned that is and remains within the ambit of the THA."
Last Friday Arts and Multiculturalism Minister Winston "Gypsy" Peters told reporters in Port of Spain that because of "political logistics" there will be no October Carnival in Tobago this year, but London said Minister Peters gave the country old information. London recalled that about a month ago he had said the THA had taken a decision that even after listening to the arguments and the position forwarded by the Minister and his team the Assembly had decided that there should not be an October Carnival in Tobago in 2011.
"What I indicated to the Minister in one of our discussions is that we have to look at the 2012 environment as different from the 2011 environment. In 2012 we celebrate the Independence of Trinidad and Tobago and therefore in those circumstances there are certain things which one can consider as part of that celebration.
"We are not averse to discussing whether it would be appropriate to have a Carnival in Tobago, we are not committed to it and we will not allow ourselves to be forced into it. We will discuss it, if at the end of those discussions we believe it is not appropriate we will not support it, it is as simple as that, so that as far as I am concerned I do not see it as an issue in the sense that we are very aware of what our priorities are, we are very aware as to why we should take a particular position or not. Anything that we do we try to do it in a manner that is professional and takes into consideration all the variables," London said.