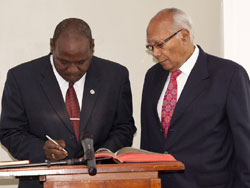 Councillor Gary Melville, 48, was sworn in on Tuesday (2nd August 2011) as a Secretary of the Tobago House of Assembly by President George Maxwell Richards, replacing Assemblyman Albert Pilgrim who resigned the position on June 13 2011.
Melville who was Assistant Secretary in the Division of Infrastructure and Public Utilitieshas assumed the portfolio of Secretary of Agriculture, Marine Affairs, Marketing and the Environment. He said in an interview shortly after his swearing in that his focus will be on food security for Tobago and maintaining its status as an environmentally strong island.
He said he would try to build on what has been done over the past five years or so and would also try to get greater participation of the stakeholders in farming, fishing and the environment.
Melville was educated at Bishop's High School, Scarborough and obtained a BSc degree in Agriculture from the UWI, St Augustine and an MSc in Agricultural Economics from the University of Manitoba, Winnipeg, Canada.
He has worked with the THA Divisions of Agriculture and Planning, a number of regional organisations including CARDI and as a consultant with the FAO, IICA, UN Council for Trade and Development. On his return home he took up the position of Director of Agricultural Planning in the THA Division of Agriculture and later as Head of the Division's Project Implementation Unit.
Present at the swearing ceremony were Chief Secretary Orville London, Assistant Chief Secretary and Secretary of Infrastructure and Public Utilities Hilton Sandy, Secretary of Settlements and Labour Godwin Adams and Ethlyn John, Administrator in the Division of Health and Social Services.
Gallery
{AG}CouncillorGaryMelvilleswornin{/AG}