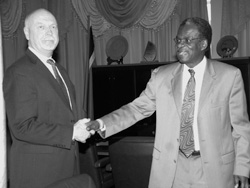 Construction of the natural gas pipeline from the Cove Eco Business and Industrial Park in southwest Tobago to islands of the southern Caribbean will begin next year, according to the CEO of the Eastern Caribbean Gas Pipeline Company Limited (ECGPC) Greg Rich.
He also disclosed that the first phase of the US$300 million pipeline project will end in Barbados. Gas will be pumped to that island in 2016.
Rich along with the company's technical coordinator Clyde Williams and Principal of Beowulf Energy Andy Lindholm met with a team from the Tobago House of Assembly (THA) led by Chief Secretary Orville London last week to give an update on the project.
Rich confirmed that gas will come from the BHP Billiton field east of Trinidad to the US$1 billion processing plant at Cove. He said the plant was in operation and the marketing aspect of the project was going "quite well".
Beowulf Energy LLC ("Beowulf") of New York and First Reserve Energy Infrastructure Fund ("FREIF"), with offices in Greenwich, Houston, Hong Kong and London acquired a majority ownership interest in ECGPC.
In Phase I of the project, ECGPC will construct and operate a 300 kilometer natural gas pipeline from the Cove Point Estate in Tobago to Barbados. Phase II of the project will involve extending the pipeline from Barbados to other Eastern Caribbean islands. The pipeline is expected to significantly lower the cost of producing electricity in countries such as Barbados which rely primarily on fuel oil to produce electricity. The pioneering project will help reshape the regional energy market and reduce dependence on oil based products.
Rich said then that ECGPC was excited to have Beowulf and FREIF as majority project sponsors in this ground-breaking regional energy infrastructure project. "The extensive energy infrastructure experience and substantial financial resources of Beowulf and FREIF will accelerate the implementation of this regionally important project thereby creating long term value for the company's investors while delivering tangible financial and environmental benefits to the islands served by the pipeline," Rich said.
Beowulf Energy LLC is a US-based private equity firm focused exclusively on the acquisition and development, construction and operation of energy infrastructure facilities. In addition to operations in the US, Beowulf Energy operates and manages Trinity Power in Pt. Lisas, Trinidad and is developing other projects in Eastern Europe and Asia.
With over $23 billion of raised capital dedicated exclusively to the energy and natural resources industries, First Reserve is a premier private investment firm, making both private equity and infrastructure investments throughout the energy value chain. For 29 years, it has invested solely in the global energy industry, and has developed a preeminent franchise, utilising its broad base of specialised energy industry knowledge as a competitive advantage.