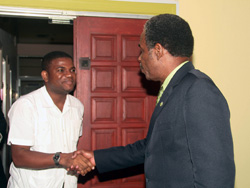 The Tobago House of Assembly (THA) will not enter into discussions with the Central Government for land on which to build an integrate university campus in Tobago.
Chief Secretary Orville London made this clear to Tobago Development Minister Dr Delmon Baker at a 90-minute meeting earlier this week.
London said in an interview that the Assembly had heard of such a campus but it was very difficult for it to make a decision at this time. He added that there were four options to be considered and instead of asking for land to build an integrated campus they (the Central Government) should do their homework and an evaluation. "It would be irresponsible for us to enter into a land discussion that would not be the best option," London added.
London told a post Executive media briefing earlier this month that the Assembly saw the Tobago Hospitality and Tourism Institute (THTI) at Blenheim in east Tobago as the core for the establishment of the University of Tobago.
He said the institute was ideally situated to be the core because it dealt with an area of study that was critical to Tobago's development. "It already has accreditation, it already has regional and international recognition and it does have the potential to attract students from all over the world. You can do that and build on it by adding other areas of study so that you end up with a university that does not only cater for the needs of Tobagonians in specific areas but also serve as a tourism oriented product bringing visitors to Tobago over an extended period."
London said the introduction of distance learning made it even more attractive for Tobagonians to source tuition from Trinidad, from the region and from anywhere in the world. He said this was one of the options available to the Assembly as it looked into the setting up of a university of Tobago.
The two also discussed security issues in Tobago. London said a piecemeal approach was being taken on the serious issue of security for the island and urged Dr Baker to impress on his colleague National Security Minister Jack Warner to reconvene the twice yearly meeting of the top security officials in his ministry and the THA to discuss the issue of security. "I am not against the Minister of Tobago Development being involved but once you have the Minister of Tobago Development you will only get second hand information," London said.
London described the recent meeting between Jack and Baker that dealt with security in Tobago as "not only disrespectful but provocative".