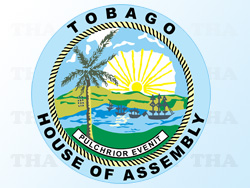 Chief Secretary Orville London is insisting that the welfare of the 40 tenants of the NIB Mall in Scarborough and their customers should be paramount and that the National Insurance Board (NIB) should manage the process with extreme sensitivity.
Top executives of the NIB met London a week ago during which he was informed of the structural integrity of the Mall which they claimed was suspect but did not disclose that quit notices were to be served on the tenants the next day.
During the discussions London recalled that he also insisted that there should be meaningful consultation involving the NIB, tenants of the Mall, other stakeholders and the Tobago House of Assembly (THA) at every stage of the process.
London said in an interview on Tuesday (19th March 2013) that he was surprised to learn that the NIB had served notices to the tenants to quit the premises by April 30, 2013 to make way for the demolition of the Mall.
He said he was given the assurance that the NIB would take the views of the Assembly quite seriously in their deliberations.
He said the Assembly had committed itself to having serious discussions with the NIB to ensure that any decision taken was in the interest of the tenants, the welfare of Tobago and the development of Scarborough and Tobago. He said there were safety issues and the Assembly would have to respect them but it would have to be part of the decision-making.
The quit notices were signed by the NIB Acting Executive Director Karen Gopaul. A circular which accompanied the notices stated that the NIB had been working from 2012 to improve the infrastructure of the Mall and as part of the exercise it commissioned its wholly-owned subsidiary the National Insurance Property Development Company Limited (NIPDEC) to engage a reputable civil/structural engineering firm to conduct a structural analysis of the Mall.
In its report CEP Limited stated that there were varying degrees of structural, as well as non structural damage; there was non-conformity with a number of current building codes; the beams and columns comprising the reinforced concrete moment resisting frame of the Mall were overstressed; and the design and detailing of the Mall did not meet all the minimum requirements for life safety performance.
Gopaul told the tenants in her circular that CEP confirmed in a letter of February 20 that the structural integrity of the Mall was severely compromised and posed a serious life threatening hazard to the tenants should a major earthquake occurred. It also concluded that the Mall was unsafe for continued occupation and should be demolished.