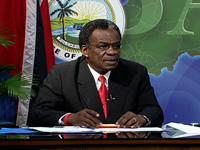 THA Chief Secretary Orville London is demanding a public apology from Minority Leader Ashworth Jack and officials of the PP Central Government for the ingenious plot that members of the THA Executive snubbed the launch of the distribution of food cards to Tobagonians.
The Office of the Chief Secretary has advised that up to early Thursday (November 22 2012) morning no invitation had been received and checks with other members of the Executive revealed that they too had not received an invitation to the event which took place at the Scarborough Port on Wednesday.
The statement said it was therefore quite disconcerting that not only was the Chief Secretary placed on the official programme to deliver an address but the Minority Leader actually told the audience that the Chief Secretary and other members of the Executive did not attend.
"It is therefore not difficult to conclude that this was a deliberate effort to embarrass the THA Executive and to place its members in a bad light with the audience at the event and the wider Tobago public," the statement added.
It said in the circumstances the Minority Leader is called upon to do the decent thing and apologise for misleading his audience and the wider Tobago public.