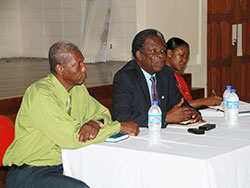 The row involving the Tobago House of Assembly (THA), residents of Charlotteville and vendors over the construction of the Charlotteville Vendors Mall, opposite the beachfront has been finally settled.
The Assembly and the stakeholders have been locked in discussions over the project for the past two years during which over 20 meetings were held in Charlotteville. The last meeting was held on Tuesday at the Arthur Moore Auditorium of the Public Library.
Present were Tobago Chief Secretary Orville London, Deputy Chief Secretary and Secretary of Infrastructure and Public Utilities Assemblyman Hilton Sandy and Secretary of Community Development and Culture Assemblyman Tracy Davidson-Celestine who is also representative for the area. Tobago Development Minister and MP for Tobago East Vernella Alleyne-Toppin also took part in the discussions.
Sandy assured the meeting that the pristine environment of the area would not be touched and that the Mall was being built behind the community centre and away from the beachfront. He said it was a simple structure of concrete and glass that will comprise a ground floor and an upper level. It will be fully air-conditioned with space for 14 booths on the ground floor and a restaurant cum meeting room on the upper level. The project is estimated to cost $12M VAT exclusive according to MTS acting Operations Manager Christopher Lackrajh.
Chief Secretary London said the present eight vendors will occupy a temporary structure for the next ten months during construction of the Mall and they will pay no rent and utility bills. However, on occupation of the Mall although they will pay utility bills there will be a moratorium on the rent for a mutually agreed period. New tenants would however have to pay both rent and utility bills from occupation.
London said villagers of Charlotteville will be invited to apply for the remaining booths to the Division of Finance and Enterprise Development. Applicants must be a citizen of Trinidad and Tobago, must show proof of residing in Tobago for the past four years and trading in Tobago, must be over 18 years, the holder of a T&T Passport and ID card and a police certificate of good character. He said a tenancy evaluation committee comprising representatives of the Office of the Chief Secretary, the Finance Division, Community Development and Culture and the Charlotteville Village Council will consider each application.
London also warned the vendors that anyone found carrying out illegal activities in the Mall will have their tenancy terminated immediately. "We will not tolerate any illegal activity taking place in the Mall. I want to make that very clear," London stressed.